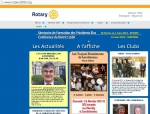 Lettre du Gouverneur Jean-Paul ESCOLAR - RI District 1650 - Février 2015
French text:
"Ce mois-ci, une lettre du Gouverneur exceptionnelle puisqu'elle est réalisée à ma demande par notre ami Michel JAZZAR, membre du RC du Kesrouan, Liban, RI District 2452 et Représentant du RI auprès des Nations Unies - ESCWA/CESAO depuis 2006-2007.
Je dois avouer qu'il m'avait fortement impressionné lors de notre université d'hiver du 6 décembre 2014, j'ai donc souhaité continuer notre collaboration en ouvrant cette lettre du mois de Février dont le thème est l'entente entre les peuples.
Je suis persuadé que celle-ci mérite que l'on lui consacre un peu de notre temps en réunion statutaire de club."
DG 2014-2015 - Jean Paul ESCOLAR (D.1650- France )
French text: fevrier2015.pdf
L'editorial- French language: download/telechargement:
http://www.rotaryd1650.org/lettres_gouv/escolar/lettres/8.htm
JE VOUS LAISSE DECOUVRIR ET LIRE LE CONTENU DU LIEN CI-DESSUS
Merci DG Jean Paul
Merci pour vos commentaires
Michel
------------------=
English text:
The attachment is in French. This is an invitation to all French speaking language friends to read the Editorial of the Governor Monthly Letter - February 2014 -- District 1650 France DG Jean-Paul ESCOLAR.
I am really honoured of his respect, friendship and trust, as he asked me to write the Editorial of his Monthly Letter under the title of "Peace: Utopia or possible "Reality"?
English text: Peace- Utopia or possible reality.pdf
Please I need your comments and feedback. Merci/Thank you