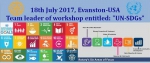 Rotary International Representatives to UN and IO Biannual meeting
I am invited to lead a small group discussion on " the United Nations Sustainable Development Goals" during a workshop from 10:45-11:45 am on Tuesday, 18 July 2017 entitled "Hot Topics and Thought Leadership in
2017-18.

The session will start with :
-a brief overview of "Thought Leadership" by the facilitator.
-From there, Representatives t UN and IO, will break into small groups to discuss the best ways to approach the subject from a Rotary perspective.
-Then as discussion leader, I am asked:
1- that I become familiar with the topic and
2- be ready to discuss how I have addressed the subject at my organization and within the Rotary world.


Photos: will be posted by 25th of July 2017