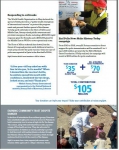 Sometime, you do a simple gesture during polio vaccination and/or you write your polio story and they are spread worldwide in the official RI -TRF annual report. Simply amazing!
I am inviting you to read the Rotary International -The Rotary Foundation Report 2013-2014 [187En14]. 187en14.pdf
What is amazing, on a personal scale, is just the page 7 and the quote. Being an example and/or a reference is just like a motivation to me and others to keep serving our communities and to be citizens of the world as Humanity is one..