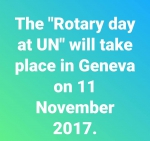 Announcement by Ed FUTA Dean of the Rotary International Representatives to United Nations : [2 February 2017].
Following-up on Rotary's recent International Assembly, I would like to alert you that our Rotary International President Elect 2017-2018 Ian Riseley, has confirmed a move of our traditional Rotary Day at the United Nations from New York to Geneva. Scheduled for 11 November 2017, the move will benefit our organization in the following strategic ways:
Support and Strengthen Clubs
— Enable Rotary members in a new geographic region to explore Rotary's historic relationship and ongoing collaboration with the United Nations.
— With the event conducted in several languages, inspire clubs to explore diverse cultures and exchange ideas across regional and national boundaries.
Focus and Increase Humanitarian Service
— As Geneva hosts the offices of UNHCR and other organizations, such as the World Economic Forum, invite experts to speak on the refugee crisis, technology and humanitarian aid, or other current topics – and inspire participants to make a difference at local, regional and global levels.
— Enable Rotarians to network and collaborate with UN, NGO and other Geneva-based experts speaking, sponsoring, or exhibiting at the event.
Enhance Public Image and Awareness
— Rotary could expand its external outreach to the more than 50 international organizations based in Geneva – including UNHCR, WHO, UN agencies, the ICRC, CARE and the World Economic Forum.
— Rotary Day at the United Nations would be held in the city known as the worldwide center for diplomacy and peace and the 11 November 2017 date would culminate the City of Geneva's annual "Peace week" http://www.genevapeaceweek.ch/about [e.g. event 2016- Swiss Rotary Clubs are partners in the event.]
Comment received:
Following the New York model three workshops are planned:
Sustainable development and Peace

Humanitarian actions and Peace

Youth and Peace
The Governors of the three RI Districts (1990, 1780, 1710) are involved in the preparation.