Cairo - Egypt - 1st to 5th March 2008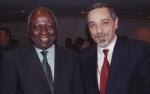 FAO GD Jacques DIOUF & Michel P. Jazzar
Rotary International was represented by Michel P. Jazzar, Rep at UN-ESCWA 2006-2009.
A Rotary Statement on the 8 MGDs was distributed to all particpants: Minsiters of Agriculture, Senior Officers, UN Depts., NGOs.
The priorities areas were guided by the past Regional Conferences and outcomes of the World Food Summit – WFS and by the Millennium Development Goals – MDGs.
1- Promoting Sustainable Water and Natural Resources Utilization, Conservation and Management.
2- Promoting the Formulation and Implementation of Sustainable Agricultural and Rural Development Policy Reforms for Eradication of Food insecurity, Malnutrition and Rural Poverty.
3- Strengthening capacities for trade liberalization, WTO negotiations and Regional Economic Cooperation.
4- Assisting in Disaster Prevention, mitigation and Preparedness and in post-emergency rehabilitation and transition to sustainable food security and agricultural development.
5- Fostering knowledge management, availability and access to information.
Resolutions will be displayed when officially available.