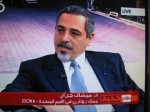 As Rotary International Representative to UN-ESCWA, I was hosted for 20 minutes on Saturday 13 September 2008, on the morning show "New Day - Yaoum Jadid" @ Lebanese " O TV " @ 9.10 AM. The subject was: "Rotary: How good things happen"
Questions:
1- What is the Rotary International?
2- Rotarians do Service or Charity?
3- What Rotary clubs do in Lebanon since 1932? [including TRF Programs]
4- Rotary and United Nations: tell us more about [including Polio Plus and RI Rep Network]
5- Why Rotary International has decided now to print its essential publications in Arabic language?