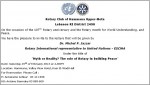 Invitation:
Rotary Club of Hammana Upper-Metn
Lebanon RI District 2450
On the occasion of the 107th Rotary anniversary and the Rotary month for World Understanding, and Peace.
We have the pleasure to invite you to the lecture that will be given by
Dr. Michel P. Jazzar
Rotary International representative to United Nations - ESCWA
Under the title of
"Myth or Reality? The role of Rotary in building Peace"
Date: Saturday 25th of February 2012 at 4.30PM
Location: Hammana, Valley View Hotel, Kasr El-Wadi Hall
For Reservation Please Call :
P: Antoinette Achkar 03 411 898
HS: Antoine Barmaky 03 089 600
1- My Presentation - light download- titled "Myth or Reality? The Role of Rotary in building peace" given at RC Hammana Upper-Metn for almost 50 attendees coming from Hammana and many towns and villages around is posted on: http://www.authorstream.com/Presentation/jazzar-1325623-rotary-role-in-buiding-peace/
2- Pictures are posted on http://good-times.webshots.com/album/582458509MrnjYR
NB: all my ppts are posted on http://www.authorstream.com/jazzar