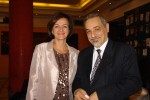 CNN IReport: http://ireport.cnn.com/docs/DOC-945685
March 20, 2013, at Bristol Hotel - Beirut: A special event: Dinner with a European and "Francophone" flavour: on the "Journée de la Francophonie", Rotary Club Beirut and Rotary Club Beirut Cedars hosted jointly the Head of the EU Delegation in Lebanon, Ms. Angelina Eichhorst for an inspiring speech (in French) about the role of European Union towards Peace in Lebanon and the region.
The event has coincided with the "EU-Lebanon Cooperation Days".Photo with HE Ambassador Angelina Eichhorst.
Below are the French and the English versions of Speech of Ambassador Angelina EichhorstHead of the Delegation of the European Union at a Joint dinner for Rotary Clubs Beirut Cedars and Beirut: "Role of EU as an advocate for Peace in the region", Wednesday 20 March 2013 at Beirut Bristol Hotel.
Speech English version:Rotary 20.03.13 EN.pdf
Spech French version: Rotary 20.03.13 FR.pdf