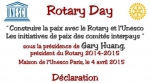 Rotary Declaration at UNESCO-Paris , April 4, 2015:
Members of Rotary, through their history, achievements, ethical standards, and friendly network, have been working towards civil peace for nearly a century. Their hands-on projects and humanitarian work have a lasting impact.for more [English official statement link below]
English statement: declaration437532fr-150408051419-conversion-gate01.pdf
----------------------
Les Rotariens par leur histoire, leurs réalisations, leur éthique et leur réseau amical, œuvrent depuis bientôt un siècle pour que la paix civile soit possible Ils ont déjà obtenu des résultats particulièrement significatifs par leurs actions de terrain et leurs témoignages humanistes.... [lire la délaration en langue Française ci-dessous]
French [c/o RI District 1650]: rotary-UNESCO_declartion french.pdf
source: http://rotaryd1650.org/php/actualites_2014_2015/44.htm
-----------------------------------
Interventions:
*PDG Nagib Zakka : Texte de l'intervention de Nagib Zakka à L'Unesco.pdf
Najib ZAKKA est professeur àl'Université Charles de Gaulle/Lille 3 - France.
Ancien Doyen,directeur de recherche, spécialiste du monde arabo-musulman, directeur de Recherches, il est titulaire d'un doctorat de 3ème cycle en littérature comparée et d'un doctorat d'Etat en histoire de la pensée arabe contemporaine. Il est l'auteur de nombreux ouvrages en langue française et arabe.
Membre de l'Académie culturelle arabe, il collabore régulièrement à divers revues et colloques internationaux.
Gouverneur du Rotary International 2002-2003, il occupe plusieurs postes de responsabilité en France et à l'étranger.