(...) For the past three decades, a network of RI representatives has been strengthening ties with the United Nations, its agencies, and other international organizations, like the League of Arab States and the European Union. The result is bigger projects, like the one in Ecuador.
In Lebanon, Rotary clubs have partnered with the UN's Economic and Social Commission for Western Asia to teach high school students about the UN Millennium Development Goals, the progress Arab states have made toward reaching them, and the obstacles that remain. The aim is to better educate the younger generation on how they can help achieve the goals.
Michel Jazzar, a member of the Rotary Club of Kesrouan, Lebanon, and an RI representative to the UN agency, has also been instrumental in bringing Lebanon clubs together to form a National Rotary Lebanon Fund to coordinate their efforts.
RI representatives monitor activities and advocate for Rotary's causes within most of the major international institutions. They regularly attend functions at the White House, United Nations, the Commonwealth, and European Union, and they arrange private meetings and organize special events. (...)
https://www.rotary.org/myrotary/en/news-media/news-features/rotarys-representative-network-puts-books-hands-children-ecuador
=====================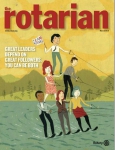 "The Rotarian", Rotary International Official Magazine, issue March 2016 - pages 57-58-59
issue March 2016-1.jpg [Cover]
issue March 2016-3.jpg [page 57]
issue March 2016-4.jpg [page 58]
issue March 2016-5.jpg [page 59]
ESCWA Referenc-TRM_March 2016_p58.jpg [highlighted]