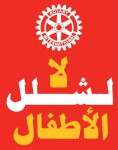 The beginning - 17 October 2013:
We knew that Polio Virus is suspected in Syria, with more of one million of refugees in Lebanon, 10 cases revealed at Deir Ez-Zour have alerted the Lebanese Ministry of Public Health [TV interview on 16 October 2013 - LBC- Episode of "Kalam En-Nass".
Then this SMS: From Ronald Farra and Belal Al Ayoubi
Screenshot_2013-10-31-12-21-14.jpg
The Rotary Foundation of RI, Director of PolioPlus Dr Carol Pandak, and International Polio Committee Robert Scott has been alerted by Michel P. Jazzar , RI Representative to UN-ESCWA, on 17 October 2013.
The Public Health Ministry announced that it will provide 1.5 million vaccines to children living in Lebanon, regardless of nationality.
PolioPLus International Committee decisions for Lebanon NIDs:
After being alerted with press release of announcements from officials in Lebanon, the PolioPlus senior officers took the following decisions:
"International Polio Plus Committee Chair Bob Scott has agreed that we can provide upon request up to US$50,000 for support for social mobilization activities [...] to the countries planning a response to the Syria situation."
"Also, The Rotary Foundation has a mechanism by which it can provide up to US$500,000 to WHO or UNICEF for an emergency response grant. These grants are made if requested by our partners and must be recommended for approval by the IPPC Chair to the Trustee Chair. We have not yet received a request from WHO and UNICEF for emergency response funds, but if we do, we would also issue a press release at that time."
Al Markazia Press Agency - Press Releases
26 October 2013: Rotary has launched a vaccination campaign for polio-26 oct13.pdf
29 November 2013: Rotary 29 oct 2013.pdf
Rotary Polio Plus National Committee:
RPPNC Chairman Dr Joseph Rachkidi:
National Immunization Days.pdf
Things needed for PolioPlus NIDs.pdf
Clubs letter of motivation by DDG George Beyrouti:
Polio Campaign Lebanon-George Beyrouti.pdf
Polio Lebanon Committee MOM 5 Nov..pdf
Polio "Ambassador" Elias Rahbani: