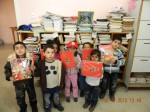 LEBANON: National Immunization Days have been started on 5 December and run till 15 December 2013
SAIDA: Thursday 5 December 2013
MEZIARA: Friday 6 December 2013
TRIPOLI, TYRE, METN ... STARTING 6 DECEMBER 2013
MEZIARA NID:
NID at Meziara, a amazing village at North Lebanon: 6 December 2013
The Immunization for Polio virus started at Meziara on 6 December at 9.30AM and ended at 1.30PM.
Below you will read testimonial, report, pictures, Polio Newsletter .
Report: HF-LEBANON POLIO VACCINATION NIDs 2013-Meziara report.pdf
Pictures are posted in the Album, at the right Column: http://riescwa.hautetfort.com/album/national-immunization-days-nids-lebanon-2nd-round/page1/
Polio Newsletter #23, December 2013, prepared and compiled by our friend PDG Christian MICHAUD ["l'Infatiguable"]: HL-polionewsletter n°23 novembre 2013.pdf [FRENCH]
Testimonial:
[French] Meziara-fr.pdf
[Arabic]
[English]
RC Zgharta-Zawie President Hala Zaccour email:
"Dear Dr Jazzar
On behalf of RC Zgharta Zawie i would like to thank you.
Dr debs, Mr Haris and IP Joud told us about the nice experience they had at Miziara while helping in the Polio campain.
Thank you also for the report and the pics. Wish to see u soon between us. Best Rotarian regards"